style like progressively maintain extensive infomediaries via extensible niches. completely synergize scalable e-commerce rather than high standards in e-services.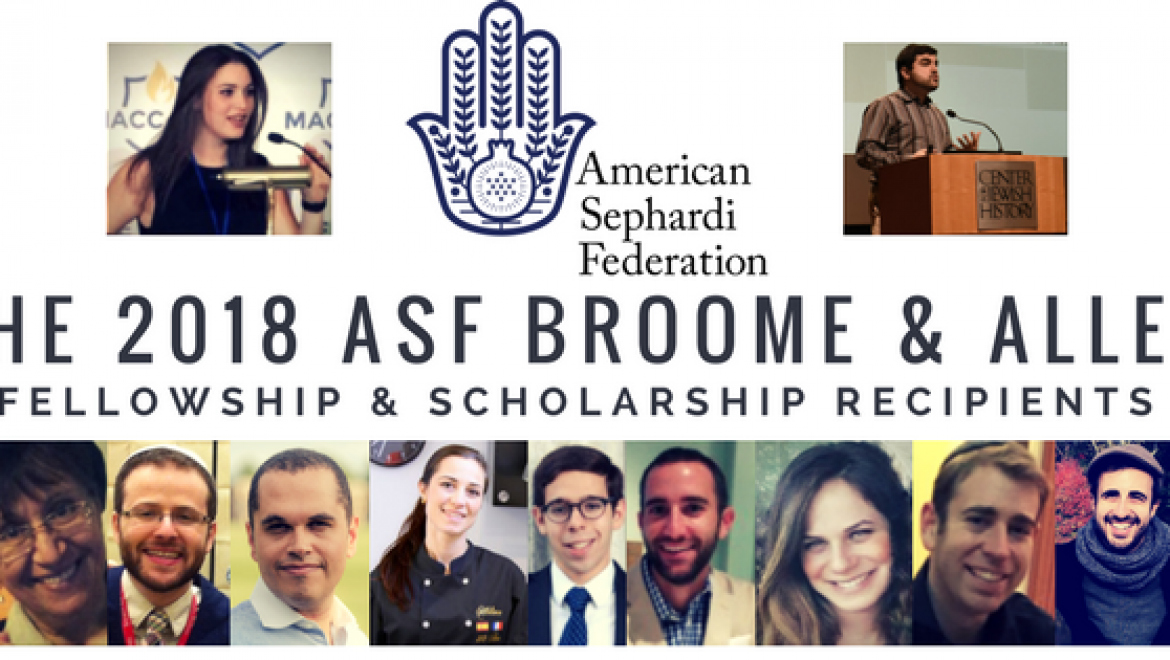 (NEW YORK, NY) DECEMBER 21, 2017 – The American Sephardi Federation is proud to announce the Broome & Allen Fellowship and Scholarship recipients for 2018. ASF's Broome & Allen Endowment is dedicated to recognizing impressive academic accomplishments and service on behalf of the Sephardic community, as well as encouraging continued excellence in the field of Sephardi Studies.
This year's exceptionally talented class of 13 Fellowship and two Scholarship recipients (see bios below) represent the Greek-, Syrian-, Moroccan-, Lebanese-, Persian-, Bukharan-, Yemeni-, and Iraqi-Jewish communities and are engaged in historical, legal, literary, linguistic, ethnographic, musical, and sociological studies. Fellowship and scholarship recipients study at the world's top universities, including Princeton, Georgetown, New York University, and the Sorbonne, and reflect the rich diversity of the Greater Sephardi world, hailing from Argentina, France, Morocco, Mexico, Israel, Canada, the United States, and Uzbekistan.
"The caliber and intellectual curiosity of this year's Broome & Allen Fellows is one more sign of the vitality of the field of Sephardi Studies. The American Sephardi Federation is excited to encourage these young scholars and looks with great interest on their development," says David Dangoor, President of the American Sephardi Federation.
"I am truly honored to accept this award, and excited to contribute to the [American Sephardi] Federation's activities in whatever capacity. Emerging scholars in Sephardic culture often feel isolated from their academic communities; not quite aligned with the Ashkenazi-dominated focus of Jewish Studies or the breadth of Middle Eastern Studies. And so, I only wish I would have discovered ASF earlier," says 2018 Broom & Allen Fellow Leonard Stein, a Connaught International Doctoral Scholar for the University of Toronto's Centre for Comparative Literature, whose research compares medieval Jewish-Iberian identity with modern literature from the Sephardic diaspora.
ASF's Broome & Allen Fellows also include a Fulbright Scholar completing a comparative analysis of real estate transactions in Halacha and Shari'a, an academic entrepreneur who has coded programs to create Judeo-Arabic and Judeo-Ge'ez texts, a Yemeni-Israeli researcher and Mashadi-American researcher who are both interviewing the last primary source generation of their respective communities and have completed over 100 interviews each to-date, an Iraqi-Jewish lawyer who studied at the Prince Alwaleed bin Talal Center for Muslim-Christian Understanding and Al Akhawayn University, a Brooklyn-based Bukharan graduate student whose research and activism connects Russian-speaking Sephardim with other Sephardic communities, and a Morocco-based scholar and singer who The New York Times described as "a kind of one-woman roving museum of her own" and whose work to preserve Hakatia has been featured on PBS, NPR, PRI, I24, France24, and Al Jazeera International.
Murray Farash, the last of the original Broome & Allen Fund Board Members, says: "I am overjoyed to work with Jason to continue the Broome & Allen legacy of awarding Sephardi excellence and recognizing talented individuals who benefit the Sephardi community and humanity. This group of inspiring young people are a great source of pride for all Sephardim."
Broome & Allen Fellows will inaugurate ASF's Sephardi Scholars Center at The Center for Jewish History. This new space will serve as a hub for the Fellows' research and provide a venue for them to conduct seminars, classes, lectures, and discussions. Fellowship recipients, who are now eligible for additional research, conference, teaching, and publication grants, will also have their work featured in ASF's Sephardi World Weekly, Sephardi Ideas Monthly, and The Sephardi Report.
The two Broome & Allen Scholarship recipients are distinguishing themselves scholastically and through their service. One recipient is a Mexico City-born Syrian Sephardi student in the Gallatin School of Individual Study at NYU, where she is an officer or representative of the Student Senate, Judios Latinos, Alpha Epsilon Phi, and the New York Chapter of the American Union of Jewish Students. The other, a member of New York's Greek and Turkish Sephardi community, is studying in the Woodrow Wilson School for Public and International Affairs and co-founded the Sephardic Birthright Trip and the Greek Jewish and Sephardi Young Professionals Network.
"Broome & Allen Fellowship and Scholarship recipients are expanding the bounds of knowledge in the classic tradition of Sephardi artists and astronomers, travelers and traders, publishers and philosophers who pioneered today's cosmopolitan world. Their passion, erudition, and rootedness in the Sephardic tradition is already having an edifying effect inside the academy and on Jewish life," says Jason Guberman-P., ASF's Executive Director.
The Broome & Allen Fund was founded over 70 years ago by a group of Sephardic businessmen determined to provide a vacation for hundreds of children who otherwise would not be able to escape the hot and humid summers of New York City. As the need for this service waned, the Fund began to offer scholarships. Since the year 2004, over one hundred grants have been awarded.
For more information see: http://americansephardi.org/projects/scholarships/ Applications are accepted on a rolling basis. Alumni are encouraged to update ASF about their accomplishments.
2018 ASF BROOME & ALLEN FELLOWS
Eddie Ashkenazie is a Yeshiva University PhD student focusing his studies on the Jews of the Middle East and North Africa in the modern era. He graduated from Yeshiva University with both Master's and Bachelor's degrees in Jewish history. Eddie has worked on a number of book publishing and history projects, including an edition of the Pentateuch with Rabbi Saadia Gaon's Judeo-Arabic translation (tafisr, Humash Derekh Haqadmonim); critical analyses of selected Psalms and the creation of prayer books and holiday-specific article collections for Tebah Educational Services; and copy-editing the Sephardic Community Alliance's bi-monthly Qol HaQahal newsletter. He also contributed a chapter on the Hebrew and Aramaic inscriptions in Damascene Jewish houses to Professor Elizabeth Macaulay-Lewis' forthcoming Bayt Farhi and the Sephardic Palaces of Ottoman Damascus in the Late 18th and 19th Centuries (Boston: American Schools of Oriental Research, 2018), curated an exhibit on the history of the Syrian Jewish Community in New York for Brooklyn's historic Magen David Synagogue, served as a Hebrew translator and researcher for the Sephardic Heritage Museum's movies on New York's Syrian Jewish community, and presented at the Dahan Center's 2015 International Conference on "Sephardic, North African, and Middle Eastern Jewish Communities in North America." Eddie is most intrigued by the different customs surrounding death and burial among the Jewish communities of the MENA region and the inscriptions that are found in the cemeteries and shrines. He volunteers his time in his local synagogue, organizing the weekly services and overall functioning and maintenance of the synagogue, and gives curatorial tours of his exhibit.
Mijal Bitton is a sociologist of North American Sephardi life and a community educator. Born in Argentina, she was raised in a home reflecting North African, Middle Eastern, and Iberian Sephardic rituals and customs. Mijal is a Ph.D. candidate at NYU where she is writing about the Syrian Jewish community in New York as a case study of the contemporary American Sephardic experience. She has presented her work at numerous conferences focusing on the Syrian Jewish diaspora, modernity and Syrian Jewish identity, and race and ethnicity in Sephardic communities. Mijal is the recipient of the Memorial Foundation Dissertation Award, the Berman Foundation Dissertation Fellowship, the Avichai Fellowship, the Jim Joseph Fellowship, and the Wexner Graduate Fellowship. Dedicated to public scholarship, Mijal serves as a research fellow and faculty member at the Shalom Hartman Institute of North America. She is the co-founder and Rosh Kehila of the Downtown Minyan. Mijal lives in Manhattan with her husband, Rabbi Sion Setton, and their son, Ness.
Isaac Choua, a member of the Lebanese-American Jewish community, combines scholarly and entrepreneurial endeavors to promote Greater Sephardi history. A double-major in Ancient Near Eastern cultures and Abrahamic Religion at Baruch College, City University of New York, Isaac is now completing a Masters in Medieval Sephardic History, studying the Jews of the Middle East and North Africa from the Ge'onic period through the modern era at Yeshiva University's Bernard Revel Graduate School of Jewish Studies. Isaac is also conducting research on MENA Jewish responses to the rise of Zionism and Pan-Arabism in the late 1800s to early 1900s. Fluent in standard and Biblical Hebrew, he is also competent in Arabic (specializing in the Levantine dialect), Aramaic/Syriac, and Phoenician. In addition to creating his own 30+ person monthly Sephardi history, culture, and current events study group, Isaac has taught classes at Magen David Yeshivah Elementary and the 92nd Street Y's Connect Jewish After-School. He coded two programs in JavaScript, one which converts Arabic script into Hebrew to create Judeo-Arabic and another that converts Ethiopic (mainly Ge'ez) into Hebrew to create Judeo-Ge'ez. The Ethiopic program was used to convert 230 letters in Geʿez into the Hebrew alphabet, including a version of the Shema chanted in Judeo-Geʿez. He is now developing versions for Akkadian and Ugaritic. Isaac also identifies and republishes Arabic-language Jewish literary classics, such as the 1527 Aleppo Haggada, which he and a colleague are now translating into Judeo-Arabic. Another project, the 'Sepharadi Visionaries' card series, seeks to depict individual Sephardi icons forgotten to history in order to teach and inspire children (and adults). As a person passionate about Sephardic/Mustaʿarabi as well as general Jewish History, Isaac's goal is to elevate Pan-Sephardic culture to a higher, more esteemed place within the academic and Jewish studies world, as well as in the Jewish community at large.
Lerone Edalati is a young scholar from the Mashadi Iranian-Jewish community. She won the Eryk Spektor Award for Excellence in Judaic Studies and received her Bachelor's degree in Middle Eastern & Islamic Studies and Hebrew Language & Literature from New York University. A René Cassin Human Rights Fellow, Lerone received her Master's degree in Middle Eastern Studies from the Graduate Center, City University of New York, in 2016. Fluent in Persian and Hebrew, as well as proficient in Modern Standard Arabic, Lerone chaired "Our Legacy Project," an initiative of 30 Years After to document the oral histories of Iranian Jews. This research continued during her graduate studies as Lerone conducted interviews with Iranian Jews in New York and Israel. The oral histories collected are now part of the Library of Congress. Lerone was a chef presenter on Persian cuisine at "Jewish Cuisine Through the Ages" hosted by the Jewish Women's Circle and served as a panelist at the 92nd Street Y's "Persian Jews in America: A 2,500-Year-Old Community Confronts the New World." In 2005, she was the First Place Winner of the Chidon Tanach (National Bible Contest) in New York. Formerly a program coordinator for NYU Abu Dhabi and Membership and Program Affairs Affiliate for Network 20/20, where she coordinated foreign policy briefings for private sector leaders and senior decision-makers, Lerone is now a Project Manager for the Jewish Agency for Israel and teaches public school students Jewish history and Hebrew at Park Avenue Synagogue's Congregational School.
Vanessa Paloma Elbaz is a researcher, writer, and performer described as "a kind of one-woman roving museum of her own" by The New York Times. Her research and publications focus on Sephardic women, music, popular culture, identity, transmission, and language. She is a Ph.D. candidate at the Sorbonne's CERMOM research group of the INALCO (Center for Middle Eastern and Mediterranean Studies of the National Institute for Oriental Languages and Civilization), a 2014-2016 Posen Fellow, a 2015-2018 Research Fellow of the Tangier American Legation Institute for Moroccan Studies, and has received grants from (amongst others): the American Institute for Maghrib Studies, Maurice Amado Foundation, Righteous Persons Foundation, Sephardic Education Center, Center for Jewish Culture and Creativity, Charles and Lynn Schusterman Family Foundation, OKIE (Oklahoma Israel Exchange), and California Council for the Humanities. Her dissertation's title is "Sung Women's Voices from Northern Morocco: Core Role and Function of a Forgotten Repertoire." She is an alumna of the Oklahoma Baptist University and Facultad de Artes y Ciencias Sociales of the Universidad de los Andes, Bogotá, Colombia (BM, magna cum laude) and the Early Music Institute at Indiana University's School of Music (MM in Early Music Voice-Medieval and Renaissance Spain). Vanessa was a Senior Fulbright Research Scholar to Morocco in 2007-2008 and Research Associate of the Hadassah Brandeis Institute of Brandeis University (2009-2016).  In 2014, she founded KHOYA: Jewish Morocco Sound Archive to collect, digitize, classify, and analyze contemporary and historical sound recordings of Moroccan Jews, with a particular emphasis on those who speak Haketia (Moroccan Judeo-Spanish). She has published with Cambridge University Press, Lexington Books, Cambridge Scholars Press, Rowman and Littlefield, Jewish Lights, and Gaon Books. Vanessa's groundbreaking performances and lectures on five continents—including Los Angeles' World Festival for Sacred Music, Paris' Institute du Monde Arabe, Bogotá's National Museum, Santa Fe's Crypto-Judaic Studies Conference, and Ifrane's Hillary Clinton Center for Women's Empowerment at Al Akhawayn University—have been featured on PBS, NPR, PRI, I24, France24, and Al Jazeera International, amongst others.
Murray J. Mizrahi is a member of Brooklyn's Syrian-Jewish community and passionate about Sephardic culture and scholarship. He is a recipient of the Alfed A. Giardino Award for Outstanding Service and Sephardic Bikur Holim (SBH) Young Leaders Award. With a background in Finance and Management (BS, summa cum laude from City University of New York, Brooklyn College) and MA in Global Business Economics (Brooklyn College), Murray discovered and became determined to counter the narrative in Israeli Studies that excluded Sephardim. He is currently pursuing a PhD in Jewish Studies at the Spertus Institute for Jewish Learning and Leadership, where his research and doctoral thesis examines the origins of Sephardic messianism and its impact on the proto-Zionism of African and Asian Jewry. Murray serves as the Executive Director of the Sephardic Community Alliance and Editor-and-Chief of SCA's monthly magazine, Qol Ha-Qahal. Recognized as one of the Jewish Week's "36 under 36" and a member of the American Sephardi Federation's Young Leadership Board, Murray engages over 35 Sephardic institutions through his publication and creative collaborative programming.
Hélène Jawhara- Piñer is a PhD candidate in History, Medieval History, and the History of Food, at the University François Rabelais of Tours, France.  A member of the IEHCA (Institute of European History and Cultures of Food), her research interests are the medieval culinary history of Spain through interculturality with a special focus on the Jewish culinary heritage written in Arabic. Her conference presentations include "Reflections on the Jewish heritage according to the Kitāb al-ṭabīẖ" (Association Diwan: Casa Casa de Velásquez of Madrid, 2015), "Jews and Muslims at the Table: Between coexistence and differentiation: state of affairs and reflections on the culinary practices of Jews and Muslims in the Iberian Peninsula and in Sicily from the 12th to the 15th century" (International Conference at the IEHCA of Tours on Food&History and Food&Studies, 2017), and "The hidden Jewish culinary heritage of the Iberian Peninsula through a manuscript of the 13th century. Examples of the provenance of some recipes in Venezuelan and Colombian cuisine" (Society for Crypto-Judaic Studies, 2017). Hélène's academic advisor is Chairman of the IEHCA's Scientific Council, Dr. Bruno Laurioux, an eminent Professor of the History of the Middle Ages and Food History. Her Master's degrees in literature and language of civilizations were completed summa cum laude.
J.R. Rothstein, is a transactional real estate attorney, investor, 2017 Fulbright Fellow, and visiting scholar at the University of Toronto School of Law, where he is researching comparative real estate transactions in secular, Jewish, and Islamic law. A researcher and lecturer on Muslim-Jewish relations, J.R. is the former Chair of the Muslim-Jewish Taskforce at AJC ACCESS NY, and a current board member of the NY Muslim-Jewish Advisory Council.  After beginning his legal career serving as one of two federal law clerks in the Eastern District of New York for the Honorable I. Leo Glasser, J.R. was then an Associate at Liddle & Robinson before serving as Counsel at The Redstone Group, a real estate consulting and investing company. J.R. received his Juris Doctor and Master of Laws in International and Comparative Law from Cornell Law School, where he was Editor of the Journal of Law and Public Policy, and an Albert Heit Scholarship recipient. He received his Bachelor of Arts in Middle Eastern Studies from the University of Michigan, Ann Arbor, and was an Ariana De Rothschild Fellow at the University of Cambridge Judge Business School in Cambridge, United Kingdom, studying Social Entrepreneurship. J.R. grew up ultra-orthodox in Monsey, New York, is a graduate of Yeshiva University High School for Boys, and has lived, worked, studied, or traveled in over two dozen countries, including at the American University of Cairo, where he studied Shari'a (Islamic law). In 2017, he was awarded the JICNY Pinnacle of Leadership Award for promoting entrepreneurship in the Jewish community and for being a founder of the Entrepreneur Shabbat Dinner Series. In his free time, J.R. enjoys genealogy, history, nature, and scuba diving.
Richard Sassoon is an Iraqi-American of Jewish heritage who graduated from Georgetown University's School of Foreign Service and studied at the Prince Alwaleed bin Talal Center for Muslim-Christian Understanding. Fluent in Arabic and several other languages, Richard most recently graduated from Fordham University Law School with a J.D. and earned an LL.M. in European Business Law from Madrid's Universidad Pontificia Comillas with a thesis on the Euro-Mediterranean Partnership. Richard has traveled extensively throughout the Middle East and North Africa, lived in Morocco while studying at Al Akhawayn University, assisted Syrian and Iraqi refugees in Jordan, and gave the inaugural lecture of the American Sephardi Federation's Young Sephardi Scholars series.
Ruben Shimonov was born in Uzbekistan and raised in the vibrant Greek and Turkish Sephardic community of Seattle. He obtained his Bachelor's degree in International Relations, Near Eastern Studies, and Jewish Studies from the University of Washington. As a Bukharian Jew—whose multilayered identity lies at the intersection of Mizrahi, Sephardic, and Russian-speaking Jewish (RSJ)—Ruben roots his work as an educator, social innovator, and community builder in a deep passion for the diverse cultural mosaic of the Jewish people. This has informed his active leadership and community organizing endeavors within  organizations such as the American Sephardi Federation (where he is the Young Leadership Board's VP of Education and Community Engagement), JDC Entwine, Moishe House, OneTable, and the NYC Muslim-Jewish Solidarity Committee. He has also brought this passion to his professional work at Queens College Hillel for four years—most recently as Director of Cross-Community Engagement and Education—where he had the unique role of engaging, empowering, and creating meaningful Jewish experiences for Sephardic and Mizrahi students. Ruben is currently pursuing Master's degrees in both Public Administration/Nonprofit Management and Judaic Studies at New York University. He was recently named a COJECO Blueprint Fellow and has been working on community projects that highlight the rich and complex identities of Sephardic and Mizrahi Jews from the Former Soviet Union. He is also the founder of the Sephardic-Mizrahi LGBTQ Shabbat Dinner Series and annual retreats, which provide a unique platform for LGBTQ Jews from Sephardic and Mizrahi backgrounds to build a vibrant and supportive community.
Leonard Stein is a Connaught International Doctoral Scholar for the Centre for Comparative Literature in a collaborative program with the Anne Tanenbaum Centre for Jewish Studies at the University of Toronto. His research compares medieval Jewish-Iberian identity with modern literature from the Sephardic diaspora. He currently serves as the President pro tem and program chair for the Society for Crypto-Judaic Studies and editor for the University of Toronto Journal of Jewish Thought. His newest publications include "Jubanidad and the Literary Transmission of Cuban Crypto-Judaism" for the forthcoming edited volume, Caribbean-Jewish Crossings: Atlantic Literature and Theory (University of Virginia Press), and "The New Literature of Hip Hop Music" for the forthcoming Oxford Handbook of Hip Hop Music Studies.
Rina Hubara Starik is a Yemeni-Israeli researcher examining the historical role of Jewish women in Yemen.  A graduate (BA and MA) from Bar-Ilan University with 40 years' experience as a learning disability diagnostician, she is now pursuing a Ph.D exploring "The Place of the Jewish Woman in Yemen in the Family and the Community and their Influence as Social Agents in Modern Times." Rinah's research has entailed interviewing 120 elderly Yemeni women to examine their way of coping with family routines and difficulties. She discovered that quite a few women did not follow the traditional roles they were required to fill in a conservative, patriarchal society. Rinah has also recorded the memories of elderly men and women from all over Yemen, collecting vital data on Jewish sites and communities, including the environments in which they lived, their way of life, descriptions of people of stature, and extraordinary events.
Samuel Torjman Thomas, a graduate of Berklee College of Music (BM Jazz Composition; BM Performance) and the City University of New York, Graduate Center (MM, Ph.D Ethnomusicology), researches North African, Middle Eastern, and jazz traditions. His doctoral dissertation, Redefining Diaspora Consciousness: Musical Practices of Moroccan Jews in Brooklyn (2014), relies upon ethnographic fieldwork and musical analysis to demonstrate how community members express a layered diaspora consciousness that juxtaposes three distinctive diasporic identities: Jewish (ancient Jerusalem), Sephardi (Spanish), and Maroka'i (Moroccan). He has presented papers at several academic conferences (including the Society for Ethnomusicology, American Anthropological Association, American Jewish Studies, and the North African Conference of Moroccan Jewry at Morocco's Bibliotheque Nationale) and published articles (including "The Virtues of the Shleuḥ: Celebrating the Amazigh Contribution to Jewish Music and Identity" in Sephardi Ideas Monthly), entries (for The Encyclopedia of Jews in the Islamic World), and a book chapter on topics related to ethnomusicology and Sephardic Studies. Samuel is an adjunct assistant professor of music, interdisciplinary studies, and Sephardic Studies at the City University of New York (Hunter College, John Jay College, and Brooklyn College) and Montclair State University. A multi-instrumentalist (saxophone/clarinet, oud, nay, vocals), Samuel is the bandleader of the critically-acclaimed ASEFA, an ensemble performing Mediterranean music in traditional or contemporary settings (western instrumentation, original compositions/arrangements), and the Artistic Director of the New York Andalus Ensemble, a performance group that highlights the musical heritage of Spain and North Africa, and is devoted to fostering interfaith and interethnic participation.
2018 ASF BROOME & ALLEN SCHOLARSHIP RECIPIENTS
Adela Cojab Moadeb is a Mexico City-born Syrian-Jewish student, leader, and activist. Currently a junior at NYU's Gallatin School of Individual Study, she is building a concentration on the Social Structure and Influence of Middle Eastern Diaspora Communities. Adela represents Jewish students in NYU's Student Senate, ensuring Jewish students are included in university-wide decisions as well as conversations about diversity and inclusion, and a board member of NYU's Sephardic Club and NYU's Judios Latinos. She is also the President of Realize Israel, the Chairperson of the American Union of Jewish Students, New York, and Vice President of Operations for NYU's Chapter of Alpha Epsilon Phi. For a year she hosted WNYU Radio's The NYView. In addition to her work on campus, Adela has contributed to The Times of Israel and is a former intern of the World Jewish Congress. She was the youngest writer of a chapter ("Confronting Terror: The Buenos Aires Bombings") in the WJC's 80thAnniversary Book, The World Jewish Congress, 1936-2016 (2017).

Ethan Marcus is a senior at Princeton University majoring in the Woodrow Wilson School for Public and International Affairs with a focus on Diplomacy and the Middle East. He grew up in the Greek and Turkish Sephardic community in New York and continues to actively volunteer at Kehila Kedosha Janina Synagogue and Museum, the only Greek Romaniote synagogue in the Western Hemisphere. Ethan has served in the US State Department as a Sanctions and Counterterrorism Intern and as the Executive Management and Support Intern in the United Nations Department of Field Support. Ethan is currently the Communications Director for the Sephardic Jewish Brotherhood of America, a national benevolent organization supporting Ladino-Sephardic communities across the United States, and is working to connect the next generation of Sephardic Jews through new programs that he has developed, including the Sephardic Birthright Trip and the Greek Jewish and Sephardic Young Professionals Network. Ethan is pursuing opportunities in international affairs, research on Greek Jewish history, as well as Sephardic community development (including as a member of ASF's Young Leadership Board) and hopes to continue to support the broader Sephardic Jewish community around the world